Security Systems from Village Alarm
High quality, complete, customizable
It's been proven that burglars will pass by a home with a security system in search of an easier target. Village Alarm knows that a complete system allows a home owner maximum security for the best price: only with the personalized installation that Village Alarm offers can you get a system that is just right for your home, without having to purchase extra components that you don't really need.
Village Alarm works Honeywell equipment to suit our customers' needs.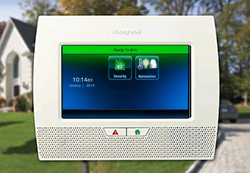 While every installation is unique, here are some common components of a high-quality alarm system:
Door and/or window contacts secure the perimeter of your home to catch a burglar before they enter.
Glass Break Detector provide additional perimeter protection by detecting large panes of stationary glass breaking.
Motion Detectors offer backup protection if all points of entry are not protected.
Camera systems to allow for real-time monitoring of your home, or to record events on your property. These can be closed-circuit systems that can be viewed on screens, or internet systems that allow for remote viewing. Learn more about our camera systems
Fire Protection with heat detectors installed in a kitchen, garage or attic to detect a rapid rise in temperature, associated with fire and/or lightning strikes.
Fire detection systems that are integrated with the monitoring system, offering additional security for the home owners and their family. Smoke detection is on 24 hours a day - whether your burglar alarm is set or not - for added security.
Panic Buttons that can be wireless or hard-wired into your home, allowing a home owner to call for help with a touch of a button.
Quality, best-of-class monitoring systems connections through Honeywell Total Connect through your phone. Learn more about our monitoring systems
Village Alarm Systems only installs the best quality equipment on the market. Contact Village Alarm for a free consultation to learn how our system can be customized for your home.